Dublin Characters
of times past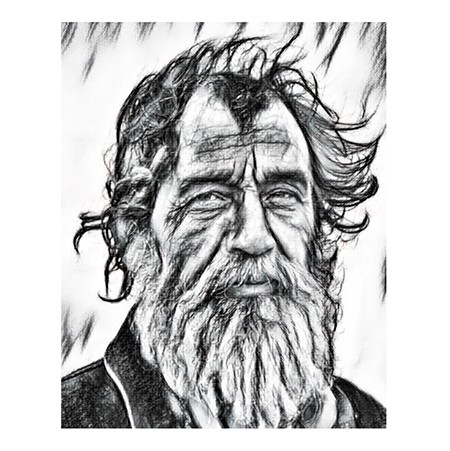 Tucker Reilly, although not explicitly mentioned in Ireland's rich literary history, embodies the essence of all Dublin characters from times past.
His name has become synonymous with mystery and intrigue, often used to conceal the true identity of a story's protagonist and grant a sense of immunity while telling stories within the realm of pub circles.
"Who shared that tale with you?" one might ask. The reply, "Ah, it was none other than Tucker Reilly."
Tell your own story of Tucker Reilly! For the history of the commoner is often lost. Because at the end of the day, anyone who has made their city a better, more enjoyable place to live in deserves to have their story told.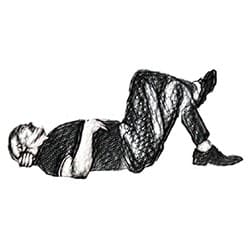 In the bustling streets of Dublin in the 1920s and 30s, there was an intriguing figure who captured the attention and curiosity of passersby.
This man, known as Lino, would leisurely lounge around different thoroughfares in Dublin City, causing both concern and intrigue among locals and tourists alike.
People would often approach him, inquiring about his presence and purpose, only to be reassured by others with a simple phrase, "Don't worry, sure that's just Lino."
The nickname "Lino" was attributed to him due to his uncanny resemblance to a living embodiment of linoleum, a type of flooring material popular during that era.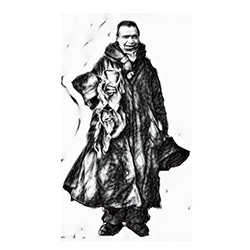 As a well-known figure in Dublin, P.J. Marlow roamed the streets of Dublin in the 1930s and 40s.
As his nickname suggests, Johnny would be clad in every piece of clothing he owned at all times throughout the year.
His obituary reads: "Winter or Summer, he dressed as if he were living in some blizzard-stricken spot within a stone's throw of the Arctic Circle. He wore innumerable overcoats – perhaps he himself forgot how many of them there were! – until he was encased and layered like a fine onion."
May he rest in peace.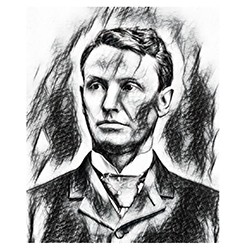 As a father to over 30 children, Jack modernised the multi-cistern cubicle toilet system initially coined as "Multi-poo."
It's for this reason that the Irish will refer to the toilet as "The Jack's."
We can go further and assume a similar story is true of "The John" in the United States and "The Loo" in the United Kingdom.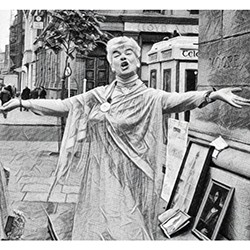 Mary Dunne was an iconic street performer who graced O'Connell St. with her spontaneous and vibrant presence from the 1970s to the 1990s.
Though she was not a busker or required money for her performances, Mary always looked the part and was impeccably done up and dressed in high heels. She would dance throughout the day, spreading joy to all who crossed her path.
Mary became a beloved figure in the hearts of many Dubliners, brightening their day with her charismatic spinning performances.
Though she may no longer be with us (since her passing in 2014), her legacy lives on, reminding us of the power of self-expression and the ability to bring happiness to others through the simple act of dance.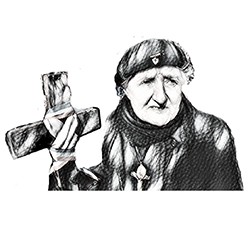 In the streets of Dublin during the 1980s, there was a figure who left an indelible mark on the minds of both the young and old.
Maggie was a woman of devout faith and unwavering determination. Clad in her traditional attire, she carried a large wooden crucifix with her wherever she went.
Her presence alone was enough to captivate attention, but it was her unique antics that truly set her apart. From breaking up kissing couples to confronting groups of punk rockers, Maggie fearlessly wielded her Bible verses and choir songs as a shield of righteousness.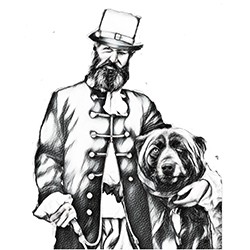 Decko was an Italian immigrant who resided in Dun Laoghaire in the late 1700s. What made Decko truly extraordinary was his unlikely choice of companion—a bear.
Legend has it that he acquired the bear from a traveling circus, and together they captivated the streets, entertaining children with awe-inspiring performances. He was often seen around Sallynoggin walking his bear on a chain.
However, tragedy struck when the bear passed away, plunging Decko into a profound state of despair. Seeking solace, he retreated to a cave in Dalkey. He spent the rest of his days in seclusion, chasing anyone who bothered him with an axe.
The cave he called home for many years was only formally named after him recently. Decko's Cave, Dalkey, Co. Dublin.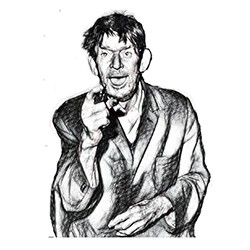 A well-publicized Dublin character, Thomas Dudley, or "Bang Bang" as he was better known, was a mischievous figure.
Armed with nothing more than a large brass key, he would playfully point it at unsuspecting passersby and create a spectacle by mimicking the sounds of gunshots, shouting "BANG BANG!"
The public would often play along, clenching their imaginary bullet wounds and playing dead. Sometimes he would enter a pub and massacre everyone at the bar counter.
Rising to new heights, quite literally, Thomas would orchestrate drive-by "BANG BANGs" from the upper carriages of double-decker buses.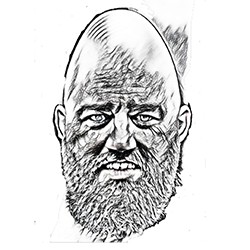 On the Streets of Cabra, during the 1930s and 40s, there was a man who made his mark in an unusual profession. Known as "The Hairy Lemon," he was employed as a stray dog catcher for the Local Council.
However, it wasn't just his occupation that made him memorable. The Hairy Lemon had a distinct appearance. He had an oddly shaped, bald head and a severe liver condition (likely due to alcoholism), which gave him a yellow complexion.
With a lighthearted sense of humor, children would often playfully taunt him, and he would laughingly chase them away. While mothers would warn their little ones to be cautious, lest "The Hairy Lemon" catch them. Sadly, Hairy Lemon's story came to an end in the 1950s.
As nobody knew his actual name, his gravestone is marked H.L.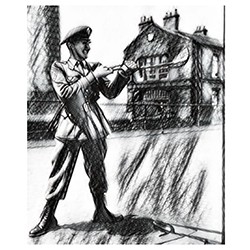 In the midst of the chaos and devastation of war, there were soldiers like Joe who had a unique way of coping with the horrors they witnessed.
Instead of succumbing to despair, he would unleash his own (daily) offensives against Kevin St. Garda Station.
Engaging in a series of audacious antics, Joe would launch imaginary mortar barrages, execute grenade attacks, and even wield finger pistols and umbrella machine guns.
Retreating for cover in the trenches or behind garden walls, Joe would call in a cavalry of local children.
The Guards, too, would often get involved, returning fire with their batons as sniper rifles from fortified positions.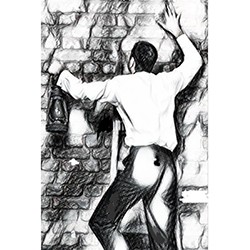 An unknown eccentric who was native to Harold's Cross during the 1890s, this man developed a deep connection with the Victorian and Georgian brickwork in the area.
He was often seen fondling or tickling ("tiddling" to Dubliners) the walls of houses and government buildings.
Stories of his connection with the bricks of Dublin range from the bizarre to downright immoral.
Whether they are true or not, we will never know.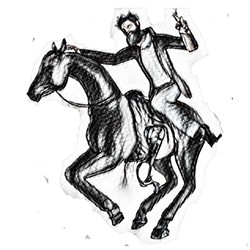 In Stoneybatter during the 1920s, this enigmatic figure gained notoriety as a local terrorizer with a penchant for mischief.
With his trusty horse as a companion Baby Nugent would go on wild escapades. However, the two had impairments – the horse was blind in one eye and he was a blind drunk.
The pair was often seen causing havoc on the city streets.
He once painted this horse pink, saddled it, and rode it straight through the door and to the bar counter of his local pub, calling for 2 pints. Another event saw him take the horse up the stairs and down the aisles of Manor St Cinema to see a movie.
Unfortunately, Baby Nugent drowned after betting someone he could cross the Liffey using only the stone wall.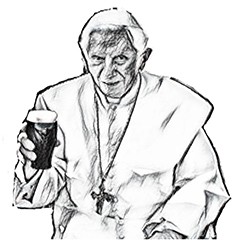 Fr john "the flash" kavanagh

It was known that Fr. Kavanagh had a fondness for an early pint. So much so that he would deliver mass in a mere 8 minutes on a Sunday morning.
The Deer's Head Pub on Parnell St. was Father Kavanagh's local, and he would attend with his congregation moments later, still wearing his full vestments and ornamentation.
His morning services were so well-attended by like-minded men that their wives soon became suspicious of the influx of newfound devotion in the area.
Unfortunately, Father Kavanagh would have to return and deliver a 6 o'clock mass. But by that time, he would have enough lubrication to introduce his own more comedic version of the Gospels.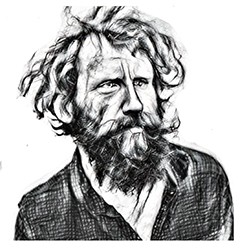 Nicknames among tradespeople are not just random monikers, but rather a term of endearment that signifies a sense of belonging and camaraderie within the community. However, Diesel gained his nickname in a very unique Dublin way.
This particular man worked as a docker in the Dublin docklands from the 1940s to the 1970s. During that time, pilfering and looting cargo were commonplace.
And due to his pronunciation of the phrase "these will," pronounced 'deez-el' in a Dublin accent, his colleagues quickly caught on.
"Deezel do for Johnny,"
"Deezel do for Mary,"
"Deezel do for the wife," etc.
Tucker Reilly's
72 - 73 Camden Street Lower,
Dublin 2.
D02 E092
Ireland.
086 4403 091

Wednesday
3.30pm - 12.00am
Thursday
3.30pm - 12.00am
Food Served until 10pm every day